Outdoor Raffle
---
2020 OUTDOOR FUNDRAISER
CANCELED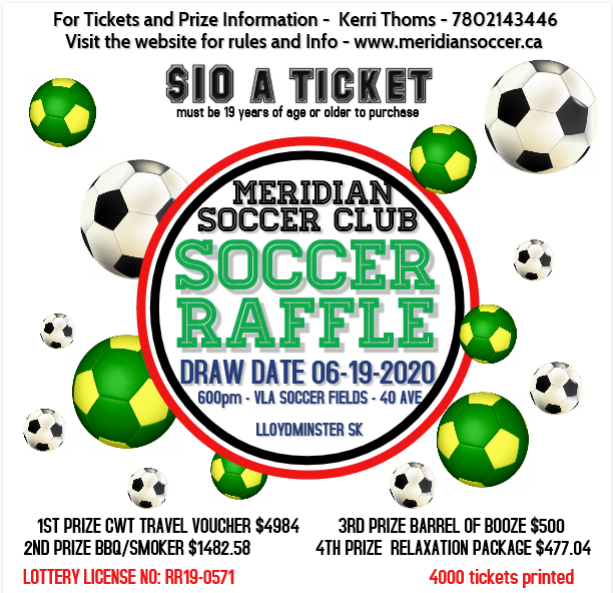 Rules of Play
Any individual over the age of 19, including organization members, immediate family are eligible to purchase tickets and or sell extra tickets.
Price per individual ticket is $10.00 per ticket
There will be 4000 tickets printed, packaged in individual books at 5 tickets per book totaling 800 books.
Draw Date: June 19, 2020, Location: VLA Fields - 40th Ave Lloydminster SK, TIME: 6:00 pm
All Tickets need to be returned and handed in no later than May 15, 2020

Drop off locations:

Precision Well Servicing 6002 53rd Ave. Lloydminster
R & D Plumbing and Heating 2920 50th Ave. Lloydminster

We will have four separate individuals at location randomly chosen to pull tickets. All tickets will be placed in a clear container and mixed. First draw will be for the 4th place winner, Second Draw will be for the 3rd place winner, Third Draw will be for the 2nd place winner, and the Fourth Draw will be for the 1st place winner. Once ticket is drawn for each prize, a picture of the ticket will be taken and placed on our website Meridian Soccer under fundraising tab. Only name of individual and ticket number will be shown in the picture. Ticket will then go back into draw bin for second chance at winning the other remaining prizes until the last winner is drawn.
1st Place - CWT Travel Voucher - Value $4984
2nd Place - BBQ/Smoker - Value $1482.58
3rd Place - A barrel of Booze - Value $500.00
4th Place - Relaxation Certificate - Value of $477.04
Winners will be contacted individually with their information provided and a prize pick up / drop off will be determined by the winner within Lloydminster City limits.
Ticket Purchaser does not have to be present at draw to win
There is no expiry date in which to use the Travel Voucher (1st Place Prize)
Unclaimed prizes will be held from one year of date at time of draw.
Ticket purchaser can contact Kerri Thoms 780-214-3446 with any questions or concerns via phone or text.
Fundraising is a necessity to the operation of the MSA. We thank you for helping us with this fundraising program. For more information or questions, please contact our Fundraising Coordinator - Kerri Thoms
kerri123thoms@hotmail.com
.